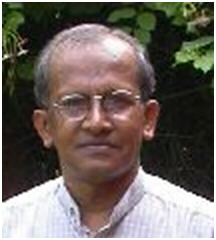 Prof. Kandaranahalli R. Shivanna
Fellow, Elected 1995
Born in Tumkur, Karnataka on 30 June 1940. Educated at First Grade College, Tumkur, 1957-61; Central College, Bangalore, 1961-63; University of Delhi, 1964-69; B.Sc. 1961; M.Sc. 1963; Ph.D. 1969.
INSA Honoraey Scientist (since 2009) and Honorary Senior Fellow, Ashoka Trust for Research in Ecology and the Environment (ATREE), Bangalore, 2002 to date.
Lecturer, 1969-81, Reader, 1981-91, Professor, 1991-2002, and Head, 1999-2002, Department of Botany, University of Delhi; INSA Senior Scientist, ATREE, Bangalore, 2002-07.
Awards/Honours: S.G. Navashin Memorial Medal, Leningrad, 1990; Panchanan Maheshwari Medal, Indian Botanical Society, 1998; Professor L.B. Kajale Memorial Lecture, Indian Botanical Society, 2003; Vice-President, International Association of Sexual Plant Reproduction Research, The Netherlands (1994-1998), Professor Panchanan Maheshwari Memorial Lecture, Indian National Science Academy, 2004; President, Indian Botanical Society, 2010. Dr V. Puri Memorial Award, Indian Science Congress Association 2017. A new plant species Combretum shivannae was named after him in honor of his outstanding contributions in the field of plant reproductive biology.
Fellow: Indian National Science Academy; Indian Academy of Sciences; National Academy of Sciences, India.
Research Areas: Reproductive ecology and conservation biology
Address: Odekar Farms, Nandihalli, Via Thovinakere, Tumkur District 572138, Karnataka; 202 Block B-3, Kendriya Vihar, Yelahanka, Bangalore 560064, Karnataka; [Tel: Cell. 09449543848; Email: shivanna@atree.org; shivannakr40@gmail.com]