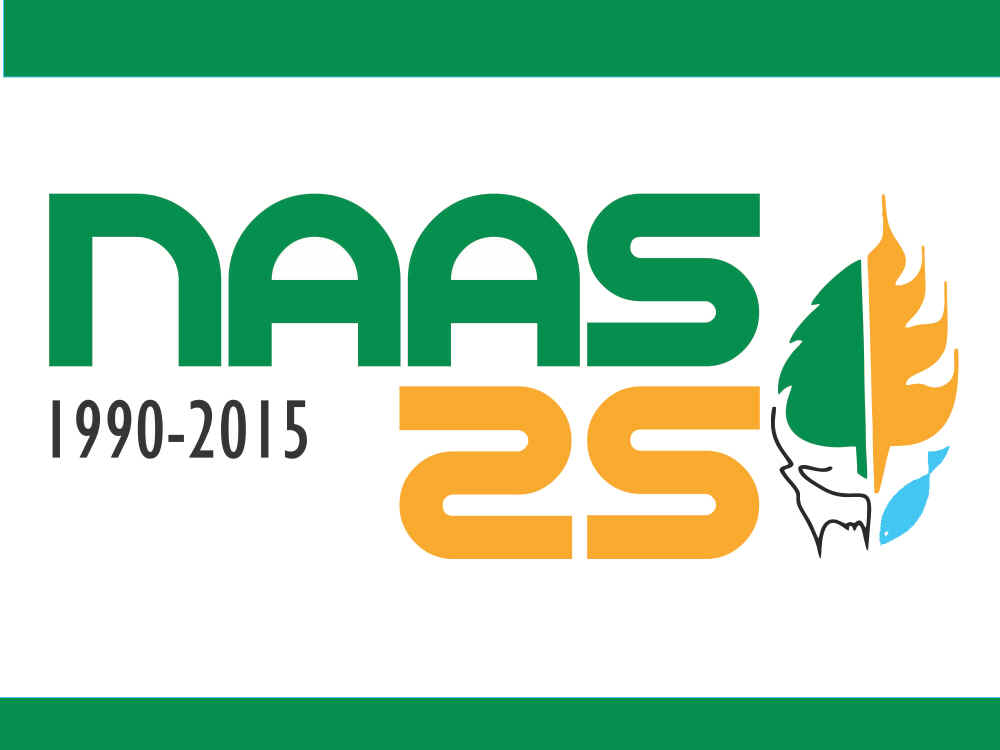 National Symposia
Mechanization of Small Farms – Review and Roadmap for 25 years (Convener: Dr. Anwar Alam) held on July 18, 2014 at Bhopal.
Nutritionally Sensitive and Environmentally Sustainable Agriculture for India's Food and Nutrition Security: challenges and Opportunities (Convener: Dr. Mahtab S. Bamji) held on August 23, 2014 at Hyderabad.
Indian Fisheries and Aquaculture: 25 Years of Achievements and Way Forward (Convener: Dr. W.S. Lakra) held on October 21-22, 2014 at Mumbai.
Enhancing and Sustaining Agriculture Productivity for Food and Nutrition Security (Convener: Dr. Ajay Parida) held on November 22, 2014 at Chennai.
Strategic Approaches for Horticultural Research, Education and Development – Way Forward (Convener: Dr. H.P. Singh and Co-convener: Dr. Pritam Kalia) held on December 26-27, 2014 at New Delhi.
25 Years of Research on Insect Resistance to Toxins - The Way Forward (Convener: Dr. K.R. Kranthi) held on December 27, 2014 at Nagpur.
Managing Natural Resources for Posterity: 25 Years of Achievements and Way Forward (Convener: Dr. Biswapati Mandal) held on December 30, 2014 at Kolkata.
Technology-Policy Integration for Pushing Livestock Sector Growth & Productivity (Convener: Dr. K.M. Bujarbaruah) held on January 12-13, 2015 at Guwahati.
Youth Convention
(i)Essay Competition on Farming as My Profession was conducted among the Post-graducate students of SAUs, CAUs, and ICAR Deemed Universities during April-May 2015.
(ii)Elocution Competition among the students of SAUs, CAUs, and ICAR Deemed Universities was held on June 2, 2015.
Silver Jubilee Panel Discussion on 25 Years of Achievements in Agricultural Sciences and Way Forward for 2030 held on June 3, 2015 under the chairmanship of Prof. M.S. Swaminathan.
Inter Academy meeting was held on June 3, 2015 under the chairmanship of Dr. S. Ayyappan and Prof. Anupam Varma as the Convener.
Silver Jubilee Lectures
(i)Sixty years of adventure in agricultural science by Prof. M.S. Swaminathan, Founder President, NAAS & Chairman, MSSRF.
(ii)Demand-driven innovation in agriculture: Creating economic opportunity for smallholder farmers and nutritional security for consumers by Dr. David Bergvinson, DG, ICRISAT.
(iii)Innovations in adaptation to climate change in dry-land agriculture by Dr. K.H.M. Siddique, Hackett Professor & Director, The UWA Institute of Agriculture, Australia.
NAAS Associates Panel Discussion on Views of Young Scientists on Research Challenges in the Changing Climate Scenario held on June 4, 2015 under the chairmanship of Prof. Anupam Varma.
Scientific Presentations by New Elected Fellows : Genetics, Genomics and Breeding for Drought Tolerance in Rice by Dr. Arvind Kumar; Understanding Plant Viral Infections and Developing Tools for their Management by Dr. Shelly Praveen by ; Wheat Improvement for Changing Climatic Situations by Dr. G.P. Singh; Hybrid Rice : A Step Towards Achieving Food Security by Dr. B.C. Viraktamath; Genetic Enhancement in Indian Mustard by Dr. D.K. Yadava; Breeding of Gourds for Yield and Quality: Present Status and Future Strategies by Dr. T.K. Behera; Genetic Improvement of Rose: Strategies for Early Selection by Prof. G.R. Rout; Genetic Improvement of Vegetables Using Conventional and Biotechnological Tools by Dr. Major Singh; Development, Improvement and Conservation of Chicken Germplasm and its Impact on Poultry Production by Dr. R.N. Chatterjee; Reproductive Technologies for Production of Quality Farm Animals by Dr. M.S. Chauhan; Development of Embryo Transfer Technology in Buffalo by Prof. A.K. Misra; Ensuring Milk Quality through Development of Tests, Aptamers and Imprinted Polymers by Dr. Y.S. Rajput; Species and Systems Diversification in Freshwater Aquaculture: The Answer to the Sustainable Aquaculture Development by Dr. J.K. Jena; Development of appropriate processing and packaging technologies for convenient fish products by Dr. C.N. Ravishankar; Conservation Irrigation for Higher Input Water Productivity in Irrigated Plains of India by Dr. S.S. Kukal; Carbon Sequestration Potential Under Different Cropping Systems by Dr. M.C. Manna; Abiotic stress management, nutrient dynamics, carbon sequestration and greenhouse gas emissions in rice based cropping system by Dr. A.K. Nayak; Microorganisms in Sustainable Development by Dr. P.W. Ramteke; Improving Nutrient and Water Use Efficiency for Sustainable Crop Production by Dr. H.S. Thind; Understanding Insect Plant Interactions for Durable Resistance by Dr. J.S. Bentur; Development of Environment Friendly Agrochemicals Formulations for Efficient Pest Management by Dr. Jitendra Kumar; Bioinoculants: A Strategic Value Added Input for Better Crop Health and Nematode Disease Management in Medicinal and Aromatic Plants by Dr. Rakesh Pandey; Cryogenics in Food Processing and Preservation by Dr. T.K. Goswami; Radiation Processing of Agricultural Commodities in India - Past, Present & Future by Dr. A.K. Sharma; Evidence Based Strategies to Tackle Micronutrient Deficiencies by Dr. K. Madhavan Nair.
Foundation Day Lecture on Structure of Indian Agriculture-Growth and Policy Epochs by Prof. Y.K. Alagh, Chancellor, Central University Gujarat.