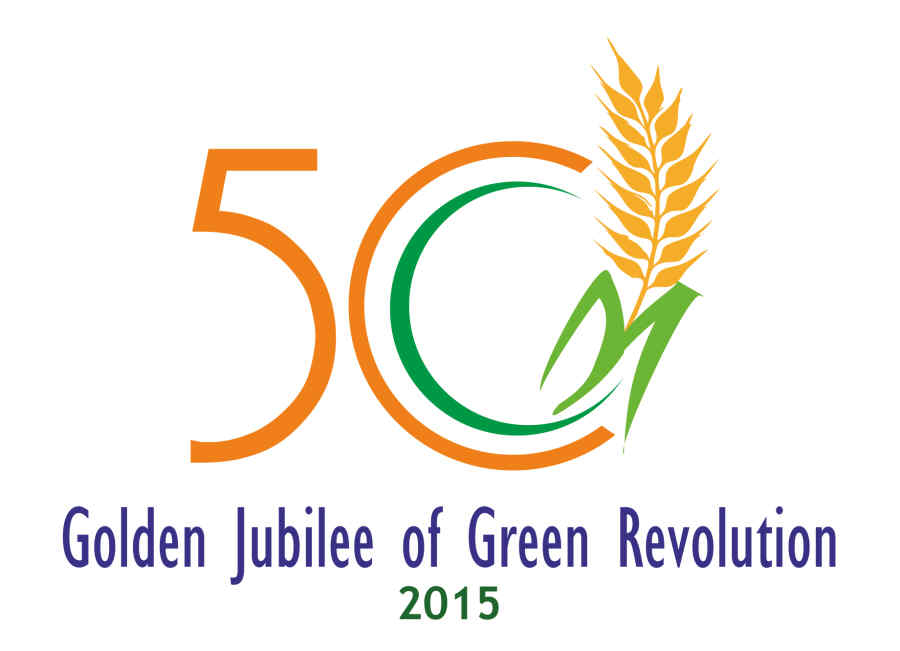 The Academy in collaboration with ICAR and IARI organized a one day scientific discourse on November 27, 2015 at A.P. Shinde Symposium Hall, NASC Complex, New Delhi to commemorate the Golden Jubilee of Indian Green Revolution that transformed our agriculture to self-sufficiency, surpluses and export. This revolution, a kind of mass movement, centring on technologists, farmers, policy makers and above all political will, was a unique model of team effort that transformed the vision of fighting hunger in India into a reality. The one day programme was conducted in three sessions and attended by more than 300 eminent experts of yesteryears and present day.
Shri Radha Mohan Singh, Hon'ble Minister for Agriculture and Farmers Welfare, Government of India was the Chief Guest of the Inaugural Function. The programme started with floral welcome to the dignitaries on the dais, Hon'ble A.M., Prof. M.S. Swaminathan, Dr. M.V. Rao, Dr. N.G.P. Rao, Dr. S. Ayyappan, Shri S.K. Singh (F.A., ICAR). It was followed by ICAR song, lighting of lamp of knowledge and welcome address by Dr. T. Mohapatra, Director, IARI. He extended a very warm welcome to the Chief Guest, all dignitaries, special invitees and NAAS fellowship for participation in this important event. On behalf of NAAS and other co-organizers, Dr. Mohapatra expressed his profuse thanks to the Hon'ble A.M. for his gracious presence and traced the history of Green Revolution, elaborating on the role played by Prof. M.S. Swaminathan, Dr. M.V. Rao, Dr. N.G.P. Rao and other stalwarts of yesteryears and the central role played by IARI in this national effort. He mentioned that Dr. S. Ayyappan, Secretary DARE, D.G. ICAR and President, NAAS has been the main driving force to guide us in organizing this important event. Dr. Mohapatra extended a warm welcome to the distinguished participants especially Shri S.K. Singh, Addl. Secretary and F.A., ICAR for support and participation in this function.
Dr. S. Ayyappan in his opening remarks expressed gratitude to the Hon'ble Minister Shri Radha Mohan Singh Ji for sparing his time to participate in this programme, which has given encouragement to young scientists to carry forward the fruits of Green Revolution. He made a presentation in which he traced the growth of Indian Agriculture from food deficit situation to food self sufficiency, surplus and export. He also highlighted the challenges of second Green Revolution. He saluted all the old stalwarts including (Late) Prof. Norman E. Borlaug who were in the thick of Green Revolution, especially Dr. M.V. Rao and Dr. N.G.P. Rao physically present on this occasion. Dr. Ayyappan hoped that after listening to the views of our stalwarts, interaction of entire house in the afternoon session on the path ahead can provide us valuable inputs to chalk out appropriate strategies for future.
One of the main focus of the Academy on this occasion was to felicitate father of Green Revolution Prof. M.S. Swaminathan and other experts who significantly contributed to its success, viz., (Dr. M.V. Rao, Dr. N.G.P. Rao), farmers (Shri N. Subba Rao, Shri Khajan Singh), and institutions (GBPUAT, Pantnagar; HAU, Hissar; IARI, New Delhi; NRRI, Cuttack; PAU, Ludhiana; CSAUA&T, Kanpur; and TNAU, Coimbatore). These institutions were effectively involved in evolving and executing Green Revolution technologies in different parts of the Country. Dr. B.R. Barwale, Chairman, Barwale Foundation, was also felicitated on this occasion. Shri Raju Barwale received the honour on behalf of Dr. B.R. Barwale. These eminent persons and representatives of institutions were felicitated by the Hon'ble A.M. in person while other former experts viz., Dr. D.R. Bhumbla, Dr. S.V.S. Shastry, Dr. G.S. Kalkat, Dr. S.S. Johl, chosen for this honour, were felicitated in absentia. Other distinguished experts who were also felicitated on this occasion included Prof. R.B. Singh, immediate past president NAAS, Dr. E.A. Siddiq and Dr. Ramesh Chand, Member, Niti Aayog, GoI.
Prof. M.S. Swaminathan in his key note address presented the backdrop of Green Revolution when India was food deficit with large population to feed and Bengal famine was fresh in the minds of people. He said that even after independence many international experts predicted that India could never feed its people and forecasted civil war like situation on food. But in this gloomy background the scientists, farmers, political leadership and policy makers dedicated themselves to a vision of hunger free India and with our highest team spirit qualities we proved the doomsday forecasters wrong. A Nation was transformed from ship to mouth situation in 1970's to self-sufficiency in wheat and rice by mid-nineties. It was indeed greatest achievement in the world. He mentioned names of Dr. Norman Borlaug, Dr. B.P. Pal and Dr. K. Ramiah among scientists; Mrs. Indira Gandhi, Shri Lal Bhadur Shastri, Shri C. Subramaniam and Shri A.P. Shinde among the political leadership for their support and enterprising farmers who produced the dwarf wheat seeds on large scale for cultivation across the country. In respect of wheat and rice he traced the history of technology import, assessment, development, adoption and dissemination in potential states that significantly contributed to the success of Green Revolution. This was indeed a mass movement that helped to realise our dream of food self-sufficiency. But the vision of zero-hunger is still to be achieved. He expressed his concern that while we have achieved success in producing cereals in enough quantity to meet our demand but we need to keep pace with increasing demand of our growing population on one hand but on the other expand our food basket. In this connection, he warned that our people have deficiency of required calories, protein and micro-nutrients in their diet resulting in many health problems. He expressed that we have huge population of mal-nutritious children in this country, which is a major concern that needs to be addressed on priority. He suggested that during second Green Revolution, we should focus on "Bio-fortification and Zero Hunger Challenge". In this connection, he advocated "Farming Systems for Nutrition", developing "Genetic Gardens" in villages, "Protein Panchayat" whole village to grow Pulses. He advised to give importance to "orphan crops" viz., Jowar and Bajra. Among other suggestions that Prof. Swaminathan stressed were, Genome services – tribal people could be best custodians of conserving our genome. He emphasized the need to initiating All India Coordinated Project on GM Crops by ICAR and putting in place National Bio-safety Authority / Committee. He also stressed that government should address the issue of price management, attracting youth to farming, and adapting to the challenge of climate change. He expressed satisfaction at the presence of Hon'ble Agriculture Minister Shri Radha Mohan Singh at this historical function. He appreciated the efforts of NAAS / ICAR / IARI for organizing this function under the leadership of Dr. S. Ayyappan. He thanked all for showering love, affection and for honouring him and felt satisfied that he was able to serve the country in whatever capacity and contribute to its growth and agri-economy. Prof. Swaminathan was given a standing ovation by all the participants present in the house. The Hon'ble Minister Shri Radha Mohan Singh on this occasion released special Postal Stamp brought-out by Postal Department, Government of India. He also released a number of publications, the notable ones among which were, "Reminiscences" on Golden Jubilee of Green Revolution, two policy papers of NAAS, special issue of "Khethi". Other publications were on "Pesticide Resistance" and popular Kannada quarterly named "Krishi Kayaka". Later Shri Radha Mohan Singh Ji in his address expressed his happiness over his presence in this important function to celebrate 50 years of Indian Green Revolution and honour its stalwarts especially Prof. M.S. Swaminathan who is the father of Green Revolution. He mentioned that he was indeed happy that this function gave him an opportunity to interact and seek opinion from Prof. Swaminathan on various issues confronting Indian agriculture at present. He acknowledged the role of technology and scientists in overall progress that country has achieved in different sectors of agriculture viz., cereals, horticulture, milk, fisheries and poultry. He mentioned that Green Revolution has turned India from "begging bowl" to leading producer. While in 1960-61 our overall food production was 82 m.t., this has reached 264 m.t. in 2013-14. During this period the wheat production took a quantum leap of 79 m.t., moving from 11 m.t. in 1960-61 to 90 m.t. in 2013-14. Similarly, the rice production moved from 34 m.t. in 1960-61 to 100 m.t. in 2013-14. However, he expressed that our challenge remains in pulses, food processing, value addition and marketing that could lead to more economic returns to farmers. He highlighted different initiatives, including additional financial support to agriculture sector that present government has taken. He stressed that new strategy for second Green Revolution should be based on the analysis and lessons drawn from our first Green Revolution. He mentioned that benefits of first Green Revolution have largely been restricted to the areas of the country having adequate irrigation facilities. He advocated that second Green Revolution in the country will come from eastern states viz., Assam, Bihar, Chhattisgarh, Jharkhand, Odisha, West-Bengal and eastern Uttar Pradesh as they have tremendous potential but we need to harness that in an appropriate manner. Hon'ble Minister highlighted that investment needs, infrastructure and institutional support to usher in second Green Revolution is receiving top attention at the Prime Minister level as well. In this connection he cited the establishment of IARI in Hazaribagh in Jharkhand, Indian Institute of Agricultural Biotechnology in Ranchi and National Research Centre for Integrated Farming at Motihari, Bihar. The important issue of soil health has received top priority and the government has taken an ambitious programme to issue soil health card to farmers to help them improve their farm productivity and receive other appropriate inputs. In this massive effort, KVK's have also been involved. Hon'ble Minister laid stress on improving irrigation at district level, soil health, generating market information for farmers, developing national farmers bazaars to aim at e-marketing of agriculture produce/products. He mentioned that efforts are underway to inter-connect 550 farm bazaars in the country by e-marketing. The Hon'ble Minister said that our aim should be to produce enough food to meet the demands for whole world so that our farmers earn more money. He concluded by appreciating the efforts of Dr. S. Ayyappan, Secretary DARE, D.G. ICAR and President NAAS for organizing such a scientific interaction and bringing all yesteryear stalwarts at a single platform to exchange ideas especially to listen to the wisdom of Prof. M.S. Swaminathan.
A formal vote of thanks for this important inaugural session was proposed by Dr. M.P. Yadav, Secretary, NAAS in which he expressed profuse thanks to the Hon'ble Agriculture Minister, Shri Radha Mohan Singh, Prof. M.S. Swaminathan, Dr. M.V. Rao, Dr. N.G.P. Rao, Shri Subba Rao, Shri Khazan Singh, Dr. S. Ayyappan, Shri S.K. Singh and other esteemed invitees, NAAS fellowship, members of NAAS EC, DDG's, ADG's, other senior officers from ICAR and Directors of ICAR institutes for sparing their valuable time to grace this important function. He also expressed grateful thanks to Vice-chancellors from SAU's, the representatives of press and media for their participation to cover this important event. Grateful thanks were conveyed to the Director IARI and his faculty / staff for effective organization of this function.
The second session "As they saw it - impressions" was chaired by Dr. M.V. Rao and co-chaired by Dr. R.B. Singh. In this session many seniors viz., Dr. M.V. Rao, Dr. N.G.P. Rao, Dr. R.B. Singh, Dr. E.A. Siddiq, Dr. M. Mahadevappa, Dr. T.M. Manjunath and Shri N. Subba Rao shared their work experiences, strategies and innovations that each one of them pursued to realise the dream of Green Revolution. On this occasion, two films on Green Revolution produced by ICAR were screened and well appreciated by distinguished audience. Dr. M.V. Rao outlined the massive efforts made in producing and multiplying the high-yielding seed of wheat and rice, transporting long distances and making it available at the time of sowing to meet the demand of farmers at various regions of the country, that itself was a big challenge. He also highlighted the efforts made to control rust disease by launching an AICRP - that resulted in reducing crop damage and production loss. He also shared the achievements made through launch of Mission programme on oilseeds.
Dr. N.G.P. Rao focused his views on the development of millet programme, especially Sorghum. He narrated the journey from 1960 with regard to efforts made in importing American Hybrid Sorghum, developing our own hybrids and eventually leading to successful varietal development programme. He mentioned that hybrid development and variety improvement programme were taken up side by side. Dr. Rao in his address mentioned that over the years even in millet grown areas the farmers were encouraged to cultivate cash crops. This could be one of the contributing reasons for the distress among farmers once their cash crops fail and at present they do not have millet crop to sustain them. He emphasized that we should increase the cultivation under millets and advocated more basic research on these crops to be carried out by the institutions. He was of the opinion that yields achieved at the experimental level have not been extended on large scale.
Shri Subba Rao in his remarks mentioned that in West Godavari district of Andhra Pradesh, he is cultivating Paddy with application of all scientific management practices and over the years he has standardized his own protocol. He is achieving production of 5-6 t/ha. For his innovative cultivation methods and achieving higher production, he has received national and international recognition. His concern was that now cost of production is increasing and profits are declining. At the end, he expressed grateful thanks to Hon'ble A.M. and DG, ICAR for recognizing his contribution to Green Revolution in the country.
Dr. R.B. Singh in his impressions mentioned that Green Revolution was an unprecedented phenomenon in the Country. It transformed the nation from food deficit to surplus for which we salute our seniors who led this scientific transformation of agriculture. He stated that Hon'ble A.M. in his remarks has expressed that Eastern India will lead the second Green Revolution but he informed the house how Banaras Hindu University, Varanasi was involved and seriously contributed to the development of first Green Revolution in this part of country. He also informed how Dr. K.M. Shrimali, the then Vice-chancellor of the university, supported the development of agriculture research and cultivation by making available facilities and land in and around the university campus. In this connection he mentioned the development of Puja ground and holding Farmers melas in the campus with the involvement of Maharaja of Varanasi, Vice- Chancellor and students. Dr. Singh made a point that everybody in its own humble way made a contribution to the success of Green Revolution.
Dr. E.A. Siddiq shared his views on developing dwarf varieties of Rice in a journey spread across 50 years. He mentioned that Green Revolution has been an unparallel story and we should celebrate it. Dr. Siddiq stressed that rice and wheat could be our important export commodities and predicted that we should be able to export 40-45 m.t. provided growth rate is kept high.
Dr. M. Mahadevappa in his observations advocated that technology extension through our wonderful KVK system should be made more vibrant. He suggested that efforts should be made to compile a book on "Green Revolution - Development and Achievements" for the benefit of all SAU's, Farmers and entire NARES for general awareness. He cited the example of 'Krishi Kayaka" – a magazine being published for over 50 years from Karnataka.
Dr. Manjunath in his observations stressed that present day generation does not appreciate the benefits of Green Revolution as plenty of food is available around. He traced the history how people of this country lived through food shortages, rationing, dependence on public distribution system, limiting number of guests in functions, and miss a meal in a week. In comparison, at present, at lavish receptions and weddings we waste more food - perhaps we do not appreciate how this food surplus has been achieved. This achievement in agriculture should be recognized by the authorities by bestowing the highest civilian award to its leaders. He emphasized on a holistic approach for second Green Revolution to succeed.
The Third Session "Path ahead" was Co-chaired by Dr. R.B. Singh and Dr. S. Ayyappan. In this session heads / representatives of some institutions shared their views. Dr. J.P. Srivastava from GBPUA&T, Pantnagar stated that how during Green Revolution period the students, faculties and development departments worked with zeal as a well oiled team. But over the years we have grown complacent and diluted our standards and monitoring mechanism. While it is time for young generation to take responsibility but there is need for mid-course correction to overcome the second generation challenges. May be we need to change our curricula and make it more skill oriented. Both the public and private sectors also need to play effective roles. At the same time we need to improve, upgrade and support our institutions with effective accountability mechanism, giving more opportunities to young generation. About solving second generation challenges in agriculture, he expressed confidence and emphasized that India has done it before and we will do it again.
Dr. B.S. Dhillon, Vice-Chancellor of PAU spoke on the part played by his university, farmers of Punjab, policy makers and political leadership in the state that enabled the Punjab to lead the Green Revolution movement in the North India with great success. The farmers of Punjab became very prosperous as a result of this movement. He also highlighted the present day problems that the State is facing in sustaining higher agriculture growth rate. For future, he suggested that we all should work in co-ordination, within enabling policy environment and aim at achieving sustainable development through spread of extension coverage.
Dr. T. Mohapatra, Director IARI, ascribed the success of Green Revolution to the leadership of IARI at that point of time. He mentioned that this revolution is going on silently even today and benefits are harnessed by society. He emphasized that we should define production levels within sustainability limits of our soils and climate - which indeed is a big challenge. He mentioned that apart from rice and wheat, IARI will play a leadership role in the development of pulses and oilseed.
Dr. A.K. Nayak from NRRI highlighted the contribution of this institute in developing better rice varieties that helped in marked increase in production contributing significantly to Green Revolution efforts. He also raised the issue of water use in rice cultivation, stating that it takes 3000 litres of water to produce 1 kg of rice. In this context, he advocated to have serious thought on rice export as it results in export of virtual water. At the end of observations made by institutional heads, the Co-chairs sought the inputs from esteemed participants on path ahead. Many valuable suggestions were made by Dr. S.N. Puri, former Vice-Chancellor, CAU; Dr. David Bergvinson, D.G., ICRISAT; Dr. A.K. Singh, Vice-Chancellor; Dr. B. Venkateswarlu, Vice- Chancellor; Dr. Ajay Parida, MSSRF; Dr. M.P. Yadav, former Vice-Chancellor; Dr. C.D. Mayee, former Chairman ASRB; Dr. B.S. Rana, former Director NRC, Sorhgum; Dr. Vasudevappa, Vice-Chancellor, Dr. Mruthyunjaya, former ND, NAIP; Shri Srinivasa Rao, Dr. B.S. Dwivedi and many others.
Consolidating the opinions expressed by the distinguished participants Dr. R.B. Singh in his concluding remarks mentioned that our effort should be Green Economy with socio-economic balance for which we need to plan differently, fight vulnerability to climate change, achieve Indian enigma of zero hunger, bridge the technology gaps and enhance the total factor productivity.
Concluding the session Dr. S. Ayyappan stressed the importance of reducing wastage and sharing of germplasm post-IPR regime. He indicated that success of Green Revolution was possible because in that era germplasm was freely exchanged among the countries. He impressed on team work, technology generation, transfer of appropriate technology and proper planning to be key factors to our future development. Our technology has to be robust suiting to natural endowments. Our planning process has to be at district level with clear-cut priorities. Processing of primary produce has to receive top attention with monitoring of progress at each level. He also detailed about launching mentoring programme to motivate young minds in agricultural research. At the end he congratulated everybody for successful conduct of this important event.
The formal vote of thanks was proposed by Dr. K.V. Prabhu, Secretary NAAS. He profusely thanked all stalwarts present, invitees, fellowship, experts, institutions for their participation and providing valuable inputs. He thanked the co-chairs for smooth conduct of session. Dr. Prabhu thanked all EC members for continued support for planning the event. He expressed his thanks to the Director IARI and other officers of the institute who were deeply involved in organizing this important function. He expressed profound thanks to NAAS secretariat headed by Shri H.C. Pathak for behind the scene support for smooth execution of this important function. He expressed thanks to ICAR authorities for providing all the support. He expressed special thanks to Dr. S. Ayyappan, President NAAS for continuous guidance and support that enabled the Academy to organize this meeting successfully.