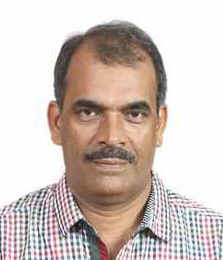 Dr. Tapan Kumar Adhya
Fellow, Elected 1997
Born in Calcutta, India on 4 September 1949. Educated at Midnapore College, Midnapore, 1967-70; University of Calcutta, Kolkata, 1970-72; Bhabha Atomic Research Centre, 1992-93; B.Sc. 1970, M.Sc. 1972; Diploma in French 1973; Ph.D. 1990.
Professor, School of Biotechnology, KIIT University, Bhubaneswar to date
Lecturer in Botany, Darjeeling Govt. College, Govt. of West Bengal, 1973-77; Scientist, 1977-83, Senior Scientist (Microbiology), 1983-98, Principal Scientist (Microbiology), 1998-2008, and Director, CRRI, Cuttack, 2008-11; Senior Advising Scientist, Environmental Defense Fund, Washington D.C, USA, 2012-14; Vice-President, Indian Nitrogen Group, New Delhi, and Director, South Asia Nitrogen Centre to date.
Awards/Honours: DBT National Associateship; WMO/UNEP Expert Reviewer, IPCC 2006 & 2012 database; DST (Govt of Orissa) Samanta Chandrasekhar Award, 2008; Prof. G. Rangaswami Memorial Award, 2009; Dr. N.S. Randhawa Commemoration Award, 2010; first receipient of ICAR Norman Borlaug Award, 2010; Prof. K.S. Bilgrami Award, 2012. President, Agriculture and Forestry Section, 98th ISC 2010-11; Member, International Union of Microbiological Societies National Committee, ICSU, 2009-15; Member Editorial Board, Biology and Fertility of Soils; Member Editorial Board, Indian Journal of Microbiology; Editor, Journal Indian Society Soil Science (2006-2009); Member, Editorial Board of NAAS Journal, Agriculture Research; Member, Editorial Board, Nature Frontiers in Ecology and Environmental Sciences Journal; Subject Editor, Proceedings of the National Academy of Sciences, India Section B: Biological Science..
Fellow: Indian National Science Academy; National Academy of Sciences, India; West Bengal Academy of Science & Technology, Kolkata; Association of Microbiologists of India
Research Areas: Environmental microbiology with emphasis on climate change and carbon sequestration, pesticide biodegradation and bioremediation, rhizosphere microbiology, wetland microbial diversity
Address: Flat # A 302, Rajendra Vihar, Forest Park, Bhubaneswar 751009, Odisha; Delhi Address: G-14/5 3rd Floor, Malviya Nagar, New Delhi - 110017; [Tel: Cell: 09437304299, 09910759627; Email: adhyas@yahoo.com; tkadhya@aol.in]
Member Executive Council 1 Jan, 2005 to 31 Dec, 2007; Dr. N.S. Randhawa Memorial Award, 2009-2010