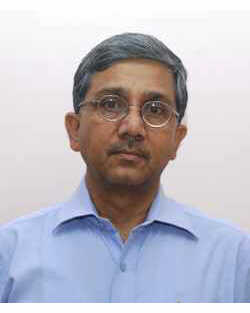 Dr. Anil Kumar Tripathi
FELLOW, ELECTED 2009
Born in Mirzapur, Uttar Pradesh on 7 November 1959. Educated at Queens College, Varanasi, 1972-76; Banaras Hindu University, Varanasi 1976-84. B.Sc. 1978; M.Sc. 1980; Ph.D.1984.
Director, CSIR-Central Institute of Medicinal and Aromatic Plants (CIMAP), Lucknow 2014 to date.
Lecturer in Botany, Gorakhpur University 1985-1990; Lecturer in Biotechnology, 1990-96, and Reader in Biotechnology, 1996-2002, BHU; Professor & Head, Department of Biotechnology, D.D.U. Gorakhpur University, Gorakhpur 2002-04; Professor of Biotechnology, 2004, Coordinator, School of Biotechnology, 2007-10, Coordinator, Centre for Bioinformatics, 2008-2011, and Coordinator, DBT-BHU Interdisciplinary School of Life Sciences, BHU, Varanasi, 2013-14.
Awards/Honours: Malaviya Medal 1978; ISCA Young Scientist Award 1987; UGC Career Award 1994; German Academic Exchange Service (DAAD) Fellowship 1988; Member, Editorial Board, Indian Journal of Microbiology 2006; DBT Overseas Associateship 2006.
Fellow: Indian National Science Academy; National Academy of Sciences India; Association of Microbiologists of India; Biotech Research Society of India.
Research Areas: Molecular Microbiology (with emphasis on abiotic stress tolerance and functional genomics in Azospirllum brasilense, microbial diversity and bioremediation)
Address: Director, Institute of Science, Professor, School of Biotechnology, Banaras Hindu University, Varanasi 221005, U.P.; [Tel: Off. (0522) 2719083; Cell: 9451525811; Fax: (0522) 2716141; Email: director.inst.science@gmail.com; tripathianil@rediffmail.com]