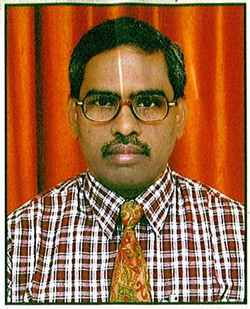 Dr. Amaresh Chandra
Fellow, Elected 2010
Born in Chandauli, Varanasi, India on 1 January 1962. Educated Sakaldiha Inter College, 1975-79; Science Faculty, Banaras Hindu University, Varanasi, 1979-86; School of Life Sciences, Jawaharlal Nehru University, New Delhi, 1986-90; B.Sc. (Hons) 1982; M.Sc. 1985; Ph.D. 1993.
Principal Scientist and Head, Division of Plant Physiology and Biochemistry, Indian Institute of Sugarcane Research, Lucknow, 2009 to date.
Scientist 1990-95, Scientist (Sr. Scale) 1995-99, Senior Scientist 1999-2007, and Principal Scientist 2007-09, Indian Grassland and Fodder Research Institute, Jhansi.
Awards/Honours: CSIRO Visiting Scientist Award, 1998-99; ICRISAT Visiting Scientist Award, 2005-06; INSA-Royal Society London Inter-Academy Exchange Award, 2008-09; Hari Om Ashram Trust Award, 2012-13; Associate Editor of Acta Physiologiae Plantarum; Consulting Editor of Sugar Tech.
Fellow: Range Management Society of India; UP Academy of Agricultural Sciences; Society of Agricultural Biochemist; Member, National Academy of Sciences, India.
Research Areas: Plant biochemistry, molecular marker, plant biotechnology and source-sink molecular dynamics in sugarcane
Address: Principal Scientist, Division of Plant Physiology & Biochemistry, Indian Institute of Sugarcane Research, Rai Bareli Road, Lucknow 226002, U.P.; D2-301 Akash Enclave, Vrindavan Yojaya Sector 6A, RB Road, Lucknow 226029, U.P.; [Tel: Off. (0522) 2480735-37 Extn 172; Cell: 09450041285; Fax: (0522) 2480738; Email: amaresh_chandra@rediffmail.com; amaresh.chandra@icar.gov.in; amaresh62@yahoo.com]