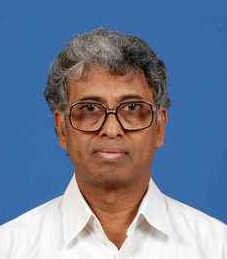 Dr. M. Udaya Kumar
Fellow, Elected 1995
Born in India on 15 September 1946. M.Sc.; Ph.D.
Professor, Department of Crop Physiology, UAS, GKVK, Bangalore to date.
Co-ordinator, Biotechnology Department, UAS, Bangalore; Member, PAC, Plant Sciences, DST.
Awards/Honours: R.D. Asana Medal, 1980; ICAR Best Teacher Award, 1997.
Fellow: Intetnational Society for Plant Molecular Biology; Indian Society of Plant Physiology.
Research Areas: Crop physiology, photosynthesis and crop productivity; stress responses of plants; physiology of water use efficiency
Address: Professor, Department of Crop Physiology, University of Agricultural Sciences, GKVK, Bengaluru 560056, Karnataka; 246, Ist 'N' Block, Rajajinagar, Bangalore 560010, Karnataka; [Tel: Off. (080) 23636713, 23330153-376; Res. (080) 23324960, 23524357; Cell: 09448376357; Fax: (080) 23330277; Email: udayakumar_m@yahoo.com]
Member Executive Council 1 Jan, 2003 to 31 Dec, 2005