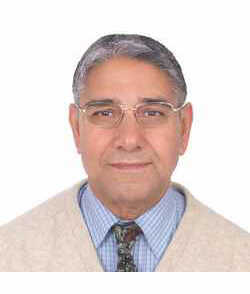 Dr. Moti Lal Madan
FELLOW, ELECTED 1996
Born in Srinagar, India on 1 January 1939. Educated at National High School, Srinagar, 1947-53; Shri Pratap College, Srinagar, 1953-55; Punjab College of Veterinary Science & Animal Husbandry, Hisar, 1955-59; National Dairy Research Institute. Karnal, 1963-65; University of Missouri, Columbia, Missouri, USA, 1968-71, Doctor of Sciences,(honoris causa) University of Guelph Canada, 2012. B.V.Sc.& AH, 1959; M.Sc. 1965; Ph.D. 1971; D.Sc. (h.c.), 2001; D.Sc. (h.c.), 2012.
Veterinary Assistant Surgeon and Extension Officer, Shopian, Kashmir, 1959-63; Assistant Professor, Punjab Agricultural University, Hisar, 1966-68; Associate Professor, Animal Production Physiology, Haryana Agricultural University, 1972-79; Professor and Head, Animal Physiology, NDRI1979-86, Head, Dairy Cattle Physiology Division, 1986-94, and Project Director, Embryo Biotechnology, 1987-94 NDRI, Karnal; FAO/UNDP Consultant, 1992; Joint Director Research, National Dairy Research Institute, Karnal, 1994-95; Deputy Director General (Animal Sciences), Indian Council of Agricultural Research, New Delhi 1995-99; Vice-Chancellor, Dr Panjabrao Deshmukh Agriculture University, Akola, Maharashtra, 1999-01; Vice-Chancellor, U.P. Pandit Deen Dayal Upadhaya Pashu Vigyan Vishwa Vidhyalaya evam Go Anusandhan Sansthan, (DUVASU) Mathura, 2006-09. Chairman Livestock Subgroup, Haryana Farmers Commission.2009, President, Society of Animal Physiologist of India (SAPI); Chairman, National Task Force on Animal Biotechnology, DBT, Govt. of India, 1999-2005; Member Executive and Chairman, Education Committee, Veterinary Council of India, New Delhi, 2002-05; Expert Member (Animal Science & Fisheries) Parliamentary Committee to Evaluate Research Work for ICAR Institutes, New Delhi;2005, Patron, society of Animal Physiology,2014, ICAR Committee for Formulation of XI Plan Programs for Animal Sciences Research and Education, 2006; Member,swaminathan National Task Force for Revamping Agriculture Education and Research, Planning Commission, GOI, 2007; Chairman, ICAR National Committee for Research Project Formulation, Evaluation and Monitoring of Research, 2010-11; Chairman QRT, CIRB, Hissar, 1992-2006; PDC Merrut, 2012; Chairman ICMR-ICAR expert committee for evaluation of Oxytocin use in Plants and Animals,2011 Chairman RAC, IVRI, Izatnagar, 2011, Chairman QRT CSWRI, Avikanagar, 2015, Chairman RAC, NDRI Karnal, 2016, Chairman ICMR-ICAR National committee on Biosafety and nutrition, 2017. Member, Ministry of Agriculture (DARE) committee to undertake Outcome Review of various schemes of ICAR for XIIth Plan, 2017
Awards/Honours: Hari Om Award, 1990, ICAR; Rafi Ahmad Kidwai Award, 1992 ICAR, Om Prakash Bhasin Award for Science and Technology, 2002, Dr. B.P. Pal Memorial Award, 2005-2006 Naas, Science Pioneer Prize, 1985, World Buffalo Congress, Cairo, Egypt; Nalis Lagerlof Award, 1985, 1997; D. Sundaresan National Dairy Award, 1989;; Nirmalam Memorial Award 1994-95; Japanese Society of Animal Reproduction OGOURI Award, 1995,; Rotary International Award 1998; Asian Australasian Association of Animal Production, AJAS Purina Award, 1999,; Rotary Service Excellence Award, 2001, Rotary International; SAPI Honorific Award, 2002, Society for Animal Physiologists of India; Distinguished Veterinarian Award (DIVA), 2002, Indian Association for the Advancement of Veterinary Research;; Alumni Excellence Award, 2004, NDRI;; Life Time Achievement Award, Indian Society for the Study of Reproduction and Fertility, 2011; ICMR Centenary Award of Honour, 2012; D.Sc. (Honoris Causa), University of Guleph, Toronto, Canada, 2012; S.K. Manchanda Oration, 5th Congress of Federation of Indian Physiological Societies (FIPS) 2014. Ramaswami Oration Award at the World Congress on Reproductive Health, ISSRF 2017.
Fellow: National Academy of Sciences, India; National Academy of Veterinary Sciences, India; Indian Association for the Advancement of Veterinary Research; Egyptian Veterinary Association, Cairo, Egypt; Indian Society for Study of Animal Reproduction.
Research Areas: Biotechnology; Animal Physiology, Reproductive Endocrinology
Address: 'Anugrah', Madan Lodge, House No. 842/6, Urban Estate, Karnal 132001, Haryana; [Tel: Res. (0184) 2284783; Cell: 9896017878, 9896317878; Email: mlmadan@hotmail.com]
Secretary 1 Jan, 2006 to 31 Dec, 2008; Member Executive Council 1 Jan, 2002 to 31 Dec, 2004; Dr. B.P. Pal Memorial Award 2005-2006