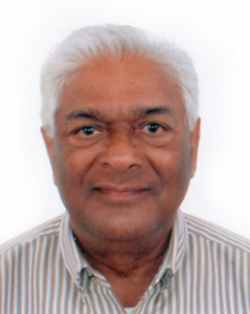 Dr. Sanjaya Rajaram
Foreign Fellow, Elected 1999
Born in Varanasi, India on 10 February 1943. Educated at College of Jaunpur, U.P.; B.Sc. 1962; Indian Agricultural Research Institute, M.Sc. 1965; University of Sydney, Ph.D. 1968; Post Doctoral Fellow, 1969-72, CIMMYT.
Director, Resource Seeds International, Toluca, Mexico, to date.
Post-Doctoral Fellow, 1968-1969, Rockefeller Foundation, New Delhi, India; Post-Doctoral Fellow, 1969-1971, Geneticist, 1971-1972, Head, Bread Wheat Breeding Program, 1972-1988, Leader, Germplasm Improvement Wheat & Head Bread Wheat Breeding, 1989-1996, and Director, Wheat Program, 1996-2003, CIMMYT, Mexico; Senior Scientific Advisor, 2004, and Director, Integrated Gene Management ICARDA, Syria, 2006-08.
Awards/Honours: More than 90 awards and honors including, Order of Quetzal, Guatemala, 1988; CGIAR King Baudouin Award 1988; International Service in Agronomy, USA, 1992; International Service in Crop Science Award, USA, 1992; Borlaug Award 1995; E.C. Stakman Award, USA, 1993; CIMMYT Distinguished Scientist, 1997; The Friendship Award, China, 1998; Rassk Prize Award, UK, 1998; Jindeng (Golden Summit) Award, Government of Sichuan, China, 2000; Monsanto Crop Science Distinguished Career Award, Crop Science Society of America, 2001; Crawford Fund Direk Trible Award, Austria, 2001; Padma Shri 2001; Centeotl Award, Coordinacion Nacional de Fundacion, Mexico, 2003; Crop Science Society Presidential Award 2004; Khwarizmi International Award, Govt. of Iran, 2004; World Food Prize, 2014.
Fellow: Crop Science Society of America; Agronomy Society of America; Academician, Kazakstan Academy of Agricultural Sciences; Academician, Ukranian Academy of Agricultural Sciences; Indian Society of Plant Genetic Resources; National Academy of Sciences, India.
Research Areas: Plant breeding, plant pathology
Address: Resource Seed Mexicana (RSM), Calle Aldama, 100, San Miguel Chapultepec, C.P. 52240, Edo. De Mexico, Mexico; Calle Paris 186, Colonia Jardines de Bellavista, Tlalnepantla, Estado de Mexico, C.P. 54054, Mexico; [Tel: Off. 52-722-2630732; Res. 52-55-53657547; Email: s.rajaram@cgiar.org]