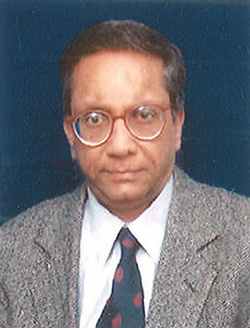 Dr. Kapil Dev Sharma
Fellow, Elected 1998
Born in Kolkata, India on 19 November 1950. Educated at College of Technology and Agricultural Engineering, Udaipur, 1968-73; 1983-85; Indian Institute of Technology Bombay, Mumbai, 1989-92; B.E. 1973; ME 1985; Ph.D. 1992.
Head Technical and R&D, Greenfield Eco Solutions Pvt. Ltd., Jodhpur, 2013 to date; Honorary Visiting Professor, Department of Hydrology, Indian Institute of Technology, Roorkee, 2006 to date.
Junior Engineer, Department of Soil Conservation and Watershed Development, Hanumangarh, 1973-76; Scientist, S1, Central Arid Zone Research Institute, Jodhpur, 1976-82; Scientist S2, ICAR Research Complex for NEH Region, Shillong, 1982-86; Senior Scientist, 1986-98; and Principal Scientist, 1998-2000 Central Arid Zone Research Institute, Jodhpur; Head of Division, Resource Management, Central Research Institute for Dryland Agriculture, Hyderabad; 2000-03; Director, National Institute of Hydrology, Roorkee, 2003-08; Technical Expert (Water Management), National Rainfed Area Authority, Planning Commission, New Delhi, 2008-13; Visiting Fellow, Chinese Academy of Sciences, Soil Erosion Research; Winand Staring Centre, Netherlands, Satellite Hydrology.
Awards/Honours: ICAR Team Research Award, 1984; CBIP Medal., 1993; EC Marie Curie Bursary, 1993; National Hydrology Award, 1996; USDI Appreciation Certificate, 1997.
Research Areas: Arid zone hydrology, numerical modelling of hydrological processes, satellite hydrology, soil erosion prediction and control, soil and water conservation engineering, sediment transport and deposition, rainwater harvesting and runoff farming, water resources development, watershed management, drought management, rehabilitation of degraded lands, etc.
Address: 11/895 Nandan Van, Chopasni Housing Board, Jodhpur 342008, Rajasthan; [Tel: Res. (0291) 2711895; Cell: 9799984400; Email: drkdsharma@gmail.com]
State of Indian Agriculture Proceedings of XI ASC on Transforming Agricultural Education for Reshaping India's Future State of Indian Agriculture – Water State of Indian Agriculture – Energy State of Indian Agriculture – Soil 100 Year of Agricultural Sciences in India Proceedings of XII ASC on Sustainable Livelihood Security for Smallholder Farmers
Recognition Award, 2005-2006