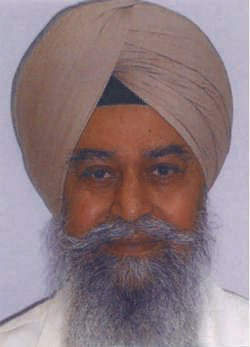 Dr. Daljit Singh Virk
FOREIGN FELLOW, ELECTED 1993
Born in Tapiala, Amritsar, India on 25 August 1944. Educated at Govt. High School, Lopoke (Amritsar) 1955-60; B.Sc. 1964, Khalsa College, Amritsar; M.Sc. 1966, Punjab Agricultural University, Ludhiana (PAU) 1964-66; Ph.D. 1976, University of Birmingham, Birmingham; D.Sc. 1991, University of Birmingham, Birmingham.
Retired Professor from Punjab Agricultural Univerisy, Ludhiana; International Coordinator (DFID PSP Projects) and Senior Research Fellow, School of Natural Sciences, Bangor University, Bangor, Wales, UK; Honorary Sr Res Fellow Bangor University, 2018 to date; Professor Mekelle University Ethiopia, 2017; Adjunct Professor Eternal University, Baru Sahib, Himachal Pradesh, India, 2013 to date.
Lecturer in Agricultural Botany, Khalsa College, Amritsar, 1966-70; Assistant Professor, Plant Breeding, PAU, 1970-78; Research Fellow in Genetics, University of Birmingham, UK, 1976-78; Associate Professor, Genetics, 1978-80 PAU; Millet Breeder & Head of Millet Section, 1980-88; Professor, Plant Breeding (Senior Millet Breeder and Head of Millet Section), 1988-00.
Awards/Honours: National Merit Scholarship, Govt. of India 1964-66; Commonwealth Scholarship for UK 1973-76 at Birmingham University; Postdoctoral Fellowship of the Royal Commission for the Exhibition of 1851 at Birmingham University; Prof. M.J. Narasimahan Academic Merit Award, 1982; Best Paper Award 1993; Appreciation Certificate by the Punjab State Council for Science and Technology, Chandigarh 1994; OBE (Offficer of the Order of the British Empire) award by the Queen of UK 2019 for services to poverty recduction and education; Several national and international public awards and honors for services to science and society incluing 10 in 2019, e.g. joint honor by Guru Gobind Singn Study Circle Ludhiana and UNESCO, Jathedar Sri Akaal Takhat Sahib, Amritsar. Editor Crop Improvement 1987-93; On Editorial Board of J. Crop Improvement Haworth Press 2004 to date; On Editorial Board of ISRN Agronomy J. 2011 to date; Section Editor Proc. Natl. Acad. Sci., India, Sect. B Biol. Sci. 2017 to date.
Fellow: National Academy of Sciences, India; Indian National Science Academy; Crop Improvement Society of India; Chartered Biologist and Fellow Royal Society of Biology, London; Indian Society of Genetics & Plant Breeding.
Research Areas: Plant breeding & genetics, crop breeding for drought tolerance, biometrical genetics, marker-assisited selection, client-oreinted plant breeding
Address: 18 South Brae Close, Littleover, Derby DE 23 1WD, England; [Tel: Res. (+44) 1332-766629; Cell: (+44) 7799 057846; Email: dsvirk2012@gmail.com]