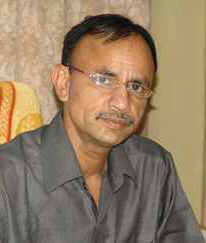 Dr. Rudra Nath Chatterjee
Fellow, Elected 2015
Born at Burdwan, West Bengal, India on 1 January, 1965. Educated at CMS High School, Burdwan, 1980-82; College of Veterinary Science (BCKV), Mohanpur, Nadia, West Bengal, B.V.Sc & A.H., 1987; IVRI, M.V.Sc. 1990; CSAU, Ph.D 1998.
Director, ICAR-Directorate of Poultry Research, Rajendranagar, Hyderabad, 2011 to date.
Assistant Professor, Mathura Veterinary College (CSAU), 1992-99; Senior Scientist, Central Agricultural Research Institute, Port Blair, 1999-2005; Senior Scientist & Principal Scientist, Project Directorate on Poultry, Hyderabad, 2005-2010.
Awards/Honours: ICAR Team Research Award, 2001-02; Fakhruddin Ali Ahmed Award 2002-03; Hari Om Ashram Trust Award 2010-11; Sardar Patel Outstanding ICAR Institution Award (Small Institute category) 2013 (as Director, DPR); Chairman, AP Chapter of IPSACON (2011-2014); Member, Committee for Compartmentalization of Poultry Farms (GOI), 2011 to date.
Fellow: National Academy of Veterinary Sciences, New Delhi 2013
Research Areas: Animal Genetics & Breeding, Poultry Breeding, Molecular Genetics
Address: Director, ICAR-Directorate of Poultry Research, Rajendranagar, Hyderabad 500030, Telangana; Flat No.101, Moghal Meadows-1, Upperpally, Hyderabad 500048, Telangana; [Tel: Off. (040) 24015650 & 24011313; Res. (040) 24011314, Cell: 9652052462, 9441295044; Fax: (040) 24017002; Email: rnch65@gmail.com, rncchat@rediffmail.com]