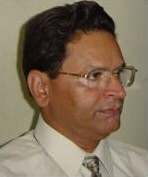 Dr. Virender Kumar Batish
FELLOW, ELECTED 2012
Born in Sirhind, District Patiala, Panjab on 7 July, 1947. Educated at Atma Ram Kumar Sabha Higher Secondary School, Patiala and Govt. Higher Secondary School, Chandigarh, 1961-1964; Govt. College, Chandigarh, 1965-1967; Pre-Medical, 1965; B.Sc. (Med.), 1967; Punjab University, Chandigarh, 1968-1972; B.Sc. (Hons), 1970; M.Sc. (Hons), 1972; Kurukshetra University, Kurukshetra; Ph.D., 1982; Certificate in German, 1976; Diploma in German, 1983.
Secretary, Probiotic Association of India, ICAR-National Dairy Research Institute, Karnal.
Scientist S-0, S-1, S-2, 1975-1986; Senior Scientist and Principal Scientist, 1986-2009; Head, Dairy Microbiology Division, 2002-2009 and Emeritus Scientist (ICAR), ICAR-National Dairy Research Institute, Karnal, 2009-2011.
Awards/Honours: DBT Long term overseas Associateship, 1986; UNDP, 1988; World Bank, 1995; DBT Short term overseas Associateship, 1998; IIFS Vijay Shree Award, 2004; Member, Biotechnology for food and agriculture sectional committee, BIS, FAD-23; Member, DBT Task force on "Food and Nutritional Security" 2002-2008; Member, Task Force on "Guidelines for Evaluation of Probiotics in Foods".
Research Areas: Probiotics as biotherapeutics, Molecular Diagnostics (PCR, qPCR), Recombinant proteins, Genetics and Molecular Biology of Lactic Starters
Address: Flat No. B-04, Dream World, Opp. Arpana Dispensary, Village & P.O. Budhakhera, Karnal 132001, Haryana; [Tel: Res. (0184) 2268004; Cell: 9896329190; Email: vkbatish@gmail.com]