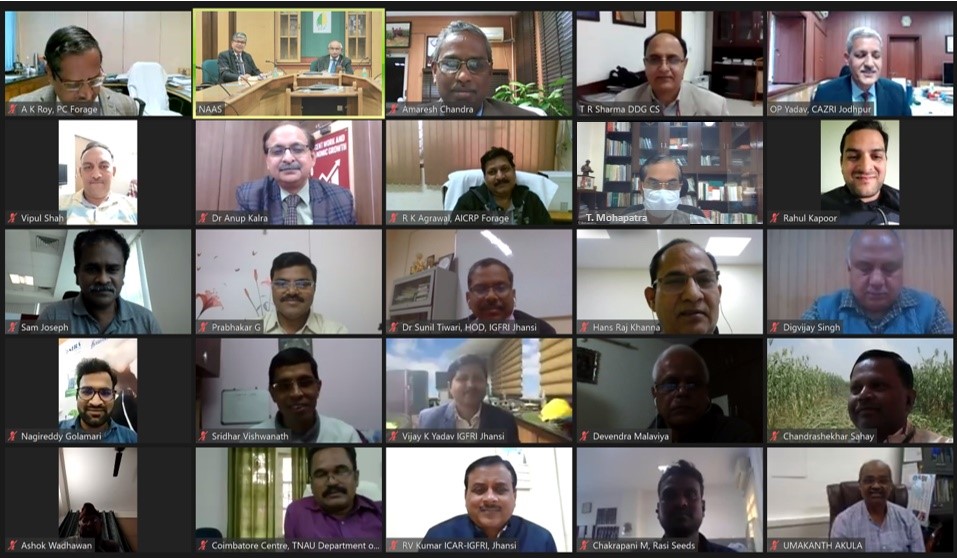 Brainstorming Session on 'Agriculture and Entrepreneurship Models for Quality Fodder Production' (Convener: Dr Ajoy Kumar Roy, Co-conveners: Drs Amaresh Chandra and D.R. Malaviya)
A brainstorming session on 'Entrepreneurship for Quality Fodder Production' was organized by the Academy on 17th December 2021 in hybrid mode. The main aim was to identify potential areas having scope for developing enterprises for quality fodder production and marketing. It also aims to (i) explore potential areas for developing efficient and effective value chains for fodder; (ii) needed government support in expanding production, marketing and export of fodder; and (iii) possibility of adopting best practices in fodder entrepreneurship.
The brainstorming session was attended by academicians, leaders from corporate and cooperative sectors and government representatives. It was chaired by Dr T. Mohapatra, President, NAAS. In his opening remarks, Dr Mohapatra emphasized for undertaking critical analysis on supply-demand of green fodder and identify scope for entrepreneurship development. It should be done through economic analysis and forecasting models. He also suggested that how Animal Husbandry Infrastructure Fund can be judiciously used?
Following issues emerged during discussion:
Non-availability of improved fodder seed and planting material (especially of grasses) is a major constraint in meeting the demand for fodder.
There is a need to effectively implement government schemes for fodder/feed production.
A seed plan of feed and fodder may be developed for next 5-10 years for developing appropriate fodder production strategy.
Potential of hydroponics in fodder production should be assessed.
Potential of organic fodder for the production of organic dairy milk needs to be explored.for domestic and export market.
Decomposing packaging material need to be developed to avoid environmental degradation.